Erasmus Universitair Medisch Centrum Rotterdam (EMC) is the academic hospital of the city of Rotterdam, the Netherlands and home to the Erasmus University faculty of medicine. The largest university medical centre in the Netherlands, EMC plays a key role in research, education and patient care in the Netherlands. Research at EMC combines its internationally acknowledged expertise in the fields of clinical sciences, health sciences and biomedical sciences. The Erasmus Medical Centre ranks #1 among the top European institutions in clinical medicine and #20 in the world according to the Times Higher Education rankings.
The proposed research will be conducted in the Department of Epidemiology at EMC. The Department of Epidemiology is responsible for training medical and postgraduate students at EMC in the principles of epidemiology. The Department of Epidemiology is one of the participating departments in the research school NIHES (Netherlands Institute for Health Sciences). The department is also home to the two large prospective cohort studies, the Rotterdam Study including almost 15,000 participants over 45 years of age and Generation R, including almost 10,000 children and their parents.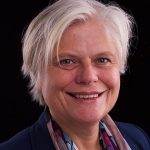 Prof. Cornelia van Duijn
Prof. Cornelia van Dujn is a professor of genetic epidemiology at the department of epidemiology at EMC.  She is the coordinator of CoSTREAM – project dedicated to the investigation ofthe link between stroke and Alzheimer's. She is involved as a principle investigator in three large-scale population- and family-based studies: the Erasmus Rucphen Family (ERF) study, the Rotterdam study and Generation R. Her work focuses on –omics research in neurodegenerative disorders. She has identified genes involved in various neurodegenerative disorders including Alzheimer's disease, Parkinson's disease, Creutzfeldt–Jakob disease and open angle glaucoma. She is a leader in several international genome wide association consortia including CHARGE, ENGAGE, EAGLE and PERADES. She served on various scientific committees, including the International Society for Genetic Epidemiology (IGES), the American and European Society for Human Genetics (ASHG, ESHG). She founded EMC's MSc and PhD program in genetic epidemiology of which she is the scientific director.